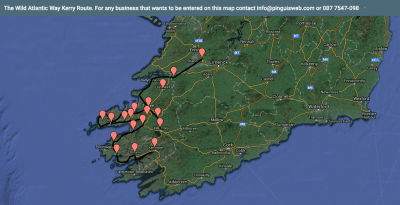 This page is about kerry and what it has to offer!!!
County Kerry  known in the native tongue in Irish: Contae Chiarraí is a county in Ireland. It is located in the South-West of Ireland and is also part of the province of Munster.
It is named after the pre-Gaelic tribe who lived in part of the present county.
Kerry County Council is the local authority for the county and Tralee serves as its main town.
Physical Location: Kerry faces the Atlantic Ocean and, typically for an Eastern-Atlantic coastal region, features many peninsulas and inlets, principally the Dingle Peninsula, the Iveragh Peninsula, and the Beara Peninsula. The county is bounded on the west by the Atlantic Ocean. Kerry is one of the most mountainous regions of Ireland and contains two of its three highest mountains, Carrauntoohil, part of the Macgillycuddy's Reeks range, and Mount Brandon, part of the Slieve Mish range. Just off the coast are a number of islands, including the Blasket Islands, Valentia Island and the Skelligs. Skellig Michael is a World Heritage Site, famous for the medieval monastery clinging to the island's cliffs..
The North Atlantic Current, part of the Gulf Stream, flows north by Kerry and the west coast of Ireland, resulting in milder temperatures than would otherwise be expected at the 52 North latitude.
Because of the mountainous area and the prevailing south-westerly winds, Kerry is among the regions with the highest rainfall in Ireland. Due to its location, the area is the site of a weather reporting station on Valentia for many centuries.
In 1986, the remnants of Hurricane Charley crossed over Kerry as an extra tropical storm causing extensive rainfall, flooding and damage.
The Kingdom – Ciarraí or more anciently Ciarraighe means the "people of Ciar" which was the name of the pre-Gaelic tribe who lived in part of the present county. The legendary founder of the tribe was Ciar, son of Fergus mac Róich. In Irish "Ciar" meant black or dark brown, and the word continues in use in modern Irish as an adjective describing a dark complexion.. The county's nickname is the Kingdom.